Do you have a pet at home? How much do you pamper them?  Well lets just talk about a pamper worthy quilt.
Pampering is a great feeling, both for the giver as well as the receiver.  And let's get one thing clear, I'm talking about treating your pet because they are well behaved in their day to day life and showing them your love.  If Fluffy is constantly misbehaving, you may want to hold on the pampering and invest in training.  Take a peep at these articles, about love and spoiling.
Your Pet deserves a Quilt
Does your dog or cat sleep on your lap.  Do you stay home from work because Mr Magoo is looking a tad under the weather?  Does Missy eat better than your family?  Yup.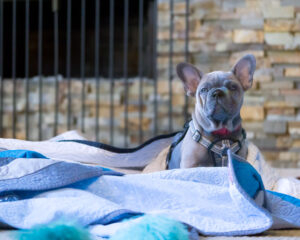 You love them as a family member.  They give you unconditional love.  They enrich your lives.  They're entertaining.  They miss you and can't wait to see you when you're gone.  They don't ask for much and they give you their lives.  They deserve to be pampered, give them a quilt.
Pamper your fur baby with a quilt of their own!  It's a great thing to do for you and for them.  They may have a comfy bed that is in the living room.   It stays in the living room while a quilt is mobile.  It can lay on top of their bed or be sitting on the chair in the corner you read.  In other words, a quilt is easy to take with you and with them.  If you have to drop them off with a sitter, or on a play date, they can have something familiar and it carries effortlessly.  Plus if they have an accident on it or it just gets dirty, the quilt washes quickly.
My pups love to get tucked in with their quilt.  The quilt is so versatile.  They can nap on the quilt, under the quilt, use the quilt to lay against like a pillow, kneed it into a cushy pad, etc.  I have a 5 month old puppy, all my pet quilts get washed frequently and will continue to be until she's an adult.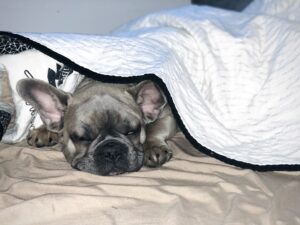 Great thing is, quilts can be made to withstand a pet's tough love.  Why not pamper your pet with, not only a quilt, a one-of-a-kind quilt.  Better yet, get one for your friend's dog too.
Designing a pet quilt
A quilter can design and make decisions as they make the quilt – a pamper worthy quilt – that will make it more durable. Your pet deserves to have a durable but comfortable quilt for napping or playing. Give me that head nod!
 A well made and durable quilt can last for years of comfort and playtime for pets.  
7 Tips to a Pamper Worthy Quilt
Check out these seven tips for making a quilt you and your pet will love:
1. Fabric: Choose fabric that is durable and comfortable. This can be cotton, a mix of cotton and linen, or similar.  The back could be cotton or a soft denim.
2. Seams: Make sure all the seams are secured to minimize them coming undone over time.  For heavy chewers, there's extra work that can be done to minimize wear.  Heavy chewers will need to be monitored with the quilt so they don't chew through the quilts.
3. Batting : Consider using poly batting.  It will take frequent washings better than cotton. 
4. Piecing: It's best to make the quilt as a whole cloth (one piece of fabric for top) or at least minimize the piecing.  The less seams, the less exposure.
5. Quilting: Tight quilting will make the quilt more durable.  It will also make it stiffer, more like a mat.  If you'd like a softer feel, ask for it.  I wouldn't recommend placing the stitching too far apart.  There is a greater chase to pop stitches.
6. Accessories: Don't add buttons, appliqués or anything they can tug, chew and rip off.
7. Enjoy:  Do enjoy spoiling your pet with this pamper worthy quilt.  Throw caution to the wind.  Don't get upset with Squiggles if he plays tug-a-war with his quilt.  "Loved, used, and used up."  That's a better story than "Squiggles has had this quilt for 5 years now."  In my humble opinion.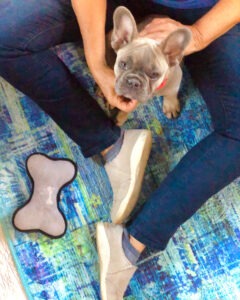 Have the conversation with your quilter about all these elements.  Make sure you get a durable and comfy quilt.  You'll smile to yourself to think you are doing this for your pup.  You are showing them you love them and they are special.  
Check out these other healthy ways of pampering your pet.
Most importantly though, spend time with your adored pet.
Are you interested in a pet quilt. Reach out to me.