"Buy good things, own them a long time."  
~ Unknown
Sounds rudimentary, almost simple-minded. But is it, or is it a simple, straightforward, genius strategy. My vice-president once told me that goals from his executive leaders of the parent company were only a handful of words and always basic vocabulary. There is no misunderstanding, not too specific to apply to anything, nor is it too complicated to remember. "Buy good things, own them a long time." Pretty straightforward.
If you buy high-quality products, you expect them to last. It's almost that way by definition. Although, people don't always buy with quality in mind. They purchase to meet the immediate need and their immediate budget; gift for Johnny, a beach chair to replace the one that broke, etc. They forget to consider time. They may think it's too expensive and not worth it. Therein lies the crux of it all. Sometimes it isn't worth it. When is it worth it?
In some instances, it would be wiser to buy good things: the high-quality, long-lasting item which costs more than the lower quality, short-lived, inexpensive item.
Personally, I try to separate the items or services where it would be advantageous and worth it to buy high quality, and those times it doesn't pay off. For example, I think a quality dishwasher makes sense or a good lawn service. But I will be first in line for a cheap but comfortable set of sneakers because I forgot mine at home or a quickie car wash. After all, I just need to get the love bugs off my car. Fellow Floridians, you know what I'm talking about.
What are signs of a quilt that won't pass the test of time?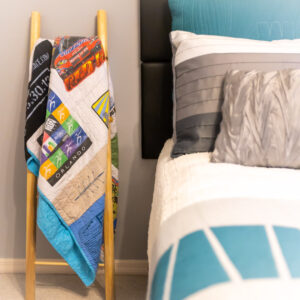 Let's talk a little about what quality means in the case of t-shirt quilts. A quality t-shirt quilt has well-sewn seams in the t-shirt top. It has seams that align well and are straight. Whether interfacing is a plus is a matter of opinion. Some say it helps hold fibers together over time. I'll tell you there are less pros than cons.  I don't use it.  The batting is a must. Batting makes the warmth and the soft feeling. I will also tell you there are circumstances where it makes sense not to use batting.  
Yes, I did say batting was a must just two sentences prior to saying there are times you don't use it.  For example, if you live in a warmer climate AND favor cooler temperatures, AND your t-shirts are good quality, thick shirts, AND aren't worn thin, you may only use a good quality flannel as backing, no batting AND quilt with a tight pattern throughout the quilt.  Lots of conditions to be met, which is why in general, I say you should always use batting.
The quilting, in my opinion, is the most critical part. The quilting should be throughout the whole quilt. The more quilt stitching, the stronger the quilt. Quilting is the glue that holds the three layers together, and three layers are more substantial than one. It also minimizes rubbing between fabrics since they are now attached. Realize, though, it can be any pattern; a simple meander is super. A complicated rose pattern with vines does not make it function better; it's just prettier and more impressive, oh, and more expensive.
That gives you the different things to look for if you are looking for quality. Since t-shirt quilts are basically custom, handmade items, there's also the potential of working with a Quilter that elevates the quilt by paying particular attention to detail.
The attention to detail that goes into a handmade item gives it that ooh la la look and feel. Handmade quality is a sign of hard work and good craftsmanship, which is truly priceless. The Quilter may offer the quilt that special touch; reinforce the seam in an overly worn area, or add snaps on bow ties so they can be removed for washing. Quality and handmade both make an item "better" as well as more expensive. Be forewarned, there is much more time that goes into this type of item, which translates into cost. If you don't value handmade quality, t-shirt quilts are not the keepsake for you.  
This is where the "own them a long time" comes into play. A well-made quilt will outlive a person, sometimes the quilt being passed down several generations, becoming an heirloom.
Let's go to the decision-making. Will the person you are gifting the quilt take great care of it, or will they share it with their super chewing pets? None of that is terrible, just an indication of the quality of quilt to invest in. Or you value the shirts but not THAT MUCH. Then the answer is "not worth it."  
If you imagine the quilt being well taken care of, loved, valued. The Owner is interested in handing it down to their children. By all means, look for a Quilter that will give you a high-quality quilt and places attention to detail. Drum roll, please……..And expect the cost to represent all that as well.
Also, realize, getting a quality item does not mean getting the most expensive item. It means buying well-made items that will last.  Think of it as Good – Better – Best.  You be the judge of where on that scale you need to be. You need to evaluate the quality yourself, and, of course, consider your budget constraints.
In conclusion, people need to consider the initial cost of an item, quality, and how long the item may last. For example, quilts can last decades if well cared for. Quality and handmade are expensive up-front, but in the end, they have intrinsic value you can never put a price on.
I write this blog post in hopes of educating and avoiding some of the awkward conversations following the statement, "It costs how much?" Yes, indeed. A traditional quilt may not be what you are looking for.  
But if you are, quality quilts are time-consuming, and your t-shirt quilt will definitely be UNIQUELY yours. There's a cost for all of that. As a consumer, it sucks; as a business, that's what keeps the doors open.
———
"Buy good things, own them a long time."
I saw this phrase on social media with the sketch attached here. I took a screenshot of it so I could write about it later. I do not intend to steal the graphic or the saying. If the person that sketched on the napkin is out there somewhere, let me know. I love your statement and obviously, want to use it. I am using it. Such a straight-to-the-point statement.  Thank you for putting it out into the world from a small, creative handmade business.