How Rag Quilts can Make You Happy
Have you ever heard the term "rag quilt"? Rag quilts are quilts that have exposed seams that fray when washed, creating a raggedy look. Yes, on purpose. A rag quilt is generally made with squares or strips, and the seams are clipped to encourage fraying.
What are Rag Quilts
Rag quilts have several unique features that set them apart from traditional quilts:
Rag quilt blocks are quilted individually.
You stitch rag quilt blocks together with the seam allowances showing on top of the quilt instead of hidden inside the layers. The seams create a signature raggedy "sashed" look between the blocks.
The more the quilt is washed, the more fraying, and the edges become more raggedy and soft.
If you live in a hot climate and want a thin quilt, you can look for a rag quilt with lighter fabrics such as flannel on top and back and potentially even instead of the batting.
All these things add up to a quilt that's colorful and very soft and comfy, snuggly, I might say.
Making your own Rag Quilt
Rag quilts are also perfect for beginner quilters. They are easy to make. There is no overwhelming quilting and no binding, which so many quilters dislike.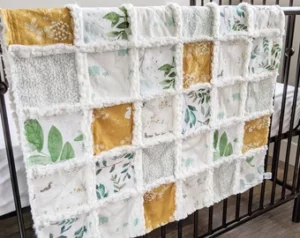 Photo Credit: Etsy The Cuddly Quilt
When I first saw a rag quilt, I was mesmerized. It looked so soft and cozy. And I was so curious as to how to make one. The rag quilts make splendid baby quilts. So here is an excellent tutorial if you are adventuresome enough to try it.
Rag Quilts can make you happy
Rag quilts get better with age, especially with fabric that continues to soften. Flannels are great for that. This is also a quilt that isn't considered a potential heirloom, so you use and use and use it. And when you use it, you wash it, and when you wash it, it becomes softer, and the cycle continues. You squeeze every ounce of comfort out of it. The snuggle factor for rag quilts is pretty high.
hap·py
/ˈhapē/
adjective: feeling or showing pleasure or contentment.
Indeed, a rag quilt can make you happy.
Snuggle Up!
Acela