Wait, What. Throw away all the kids' memories?
My kids grew out of their childhoods many years ago, but I still remember agonizing over all the artwork that came to the house, the gifts, the knick knacks, the awards, ugh, all of it. It still makes my eyes go "round." It was so hard. The kids poured their heart and soul into so much of it. You want to keep everything, but then again, you don't want to keep any of it. What do you do? 
I did the obligatory refrigerator hanging and such. I just last year (kids are 28, 26, and 24) purged the Christmas ornaments and that last birthday gift, a knit scarf. Yup, I had a hard time.
It's so tricky. Memories are priceless. It's hard to know after a few weeks have passed whether the kids even remember. Well, they may not, but don't let that fool you. If they see their works of art in the trash, there may be heck to pay. I recall having to sneak around to throw things away. They were tucked in the middle of something else headed to the trash so you couldn't see, and then the bag went out to the main waste can immediately.
There's a lot of creativity out there since my turn in the churn. Check out these great ideas you can use to celebrate the hard work and imagination authored by your kids.
Cycle out the Artwork
The children's artwork can be displayed in the near term in the customary ways; refrigerator, framed on the wall, displayed on counters, etc. You can find these cool interchangeable kid's art picture frames to use to cycle 2D artwork in and out. You can hang artwork off of wire hanging systems for display. You can find the interchangeable picture frames and wire hanging systems at places like Target, Michaels or Joann.
Once they've had their turn being on exhibition, they can go into a bin or a container of sorts with a lid for safekeeping for the year. Put one together for each child and label it with their name on it, including the year. At the end of the year, decide which items are keepers, maybe 2 or 3 of them for the year. The rest go bye-bye. But before they go away, take a look below for other opportunities to memorialize your little artist's work.
Artwork turned into Birthday cards or holiday cards
Purchase blank cards and cut the artwork into the same size as the card. For example, a 4×6 card will use a 4×6 piece of art. Glue it to the cover with a glue stick. Maybe even have your child sign the front, excuse me, autograph the front.  How awesome for Grandma or Auntie to get a custom birthday card from their favorite little artist.
Creating greeting cards also reuses or upcycles the artwork.  Brownie points for you.
Artwork turned into computer screen savers
Take a photo of the artwork with your smartphone and crop as needed for use as a computer, tablet, or smartphone screen saver. What a great way to carry the work with you at all times. You can show off and not have clutter. And then the original artwork can be disposed of. Or is it something hard to part with? Keep reading, I'm sure you can find other ways to celebrate the art again.
Artwork turned into a book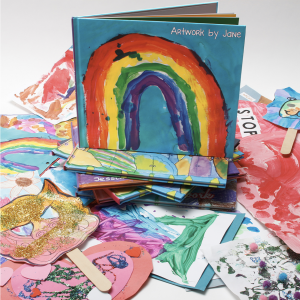 Each company below has its own unique features. Basically, all provide a shipping kit for you to send them your children's artwork, and they, in turn, provide a beautifully designed physical book for you. They professionally photograph the art, photos, trophies, etc. Think coffee table book for all to see including visitors to your home or to gift to a special family member. Testimonials I've read are great. Parents and children are impressed and thrilled to have made the decision to create these books.
Artkive offers you a framed mosaic instead of a book if you prefer.
Doodle Nest offers art cards or gift tags created from your artwork as well.
For a more DIY-ish or creative controlled result, try the two companies below. There is more work on your part, but the quality of the product is excellent.
Artwork turned into Canvas Wall Art
For that one special piece of art.  Take a high quality image of the artwork and order a  canvas print.  I use WHITEWALL.com but there are many on-line companies that can provide the service.  Your child will be amazed at their art displayed "giant size" on the wall.
Artwork turned into Jewelry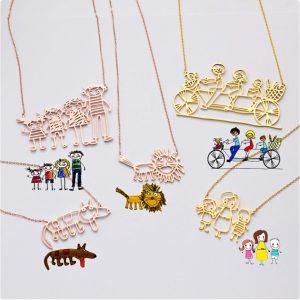 I love the idea. The custom necklaces are created out of your children's artwork. You'll be the envy of the neighborhood.  If my kids were at that age, I would definitely do this—what a memory. Maybe I'll get an opportunity with my grandchildren….if I get grandchildren, hmmm.
Artwork turned into Plush Toys
I think these are so adorable. I couldn't believe it. I have only seen the plush toys offered by Etsy vendors. Search for "personalized toys from children's art." Several vendors do this, and the type of product varies.
Notebooks, etc.
The notebooks are spiral and have covers, front and back, with the artwork. Kitchen towels have your child's artwork printed on them. Zazzle offers other digital printing on traditional products, such as cups and t-shirts, as well as more unique products. Check them out.
Artwork stored electronically in apps
Apps are available for you to digitally upload artwork. Keepy.me is similar to social media. You can keep the artwork/photos organized, share, voice record comments, and order prints. Available on iOS and Android. Artsonia is an online gallery for young student artists, PK-12, and is free. I have no experience with either but check them out.
Artwork printed on fabric
Depending on your desire to memorialize the children's artwork, there are many avenues you can take by putting the artwork on fabric and potentially wall covering.
The artwork can be transferred onto fabric as a DIY with a laserjet printer. Check out this video if you are a DIYer.  Watch here
Or, if it is super unique, try Spoonflower printing. Printing can be done on fabric or wallpaper. Boom! Click here for instructions on how to create files to send to Spoonflower for printing.
If you order Spoonflower wallpaper, you can use it to wrap gifts, cover dresser drawers, create book covers, cover pencil holders, etc.
Fabric can be used for so many things. Try curtains for the child's bedroom, tote bags, pillows, book covers, pillowcases, etc.
Artwork turned into a quilt
And most awesomely, the fabric can be used for a quilt. You knew I was going to somehow get around that this.  The artwork can be transferred onto fabric as a DIY or it can be ordered from Spoonflower as above. I recommend Spoonflower if the fabric is going into a quilt.  Check with your quilter for how to set up the file to print. You can make a quilt yourself or order it as you would a t-shirt quilt. Take a look here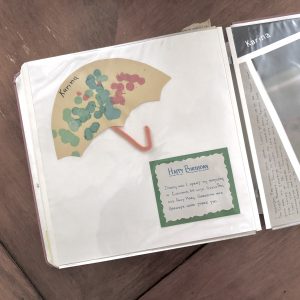 I did not include scrapbooking, but that is also a possibility. I am a nut for scrapbooking. I have quite a few special pieces of
childhood art sandwiched in the pages of my scrapbooks.  I have photos of the artwork mixed in with all of my other photos.  Make sure you protect the photos from the art and the art from the photos with archival type paper.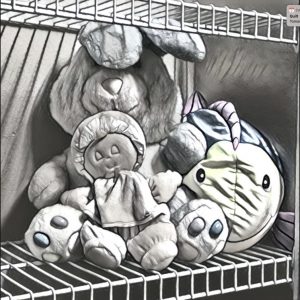 Plush animals may not be artwork but fall into the same dilemma. All of them at our home have been given away except for 4 very special, favorite animals/dolls belonging to my daughter. One, she has with her, and the other three sit on a shelf in her old bedroom waiting for her. I couldn't send them away. I've taken several photos of them, just in case she is less sentimental than I, and they are sent down the road during one of her visits.
I have to confess, I still have two 8×10 framed watercolored drawings. I displayed them in my office at work for many years. They are in the one remaining box I have that came home with me from my office when I retired.
Well, there you go.  Hopefully that gives you lots of resources to look at when you are struggling with what to do.  Some of the ideas are for those very special pieces and others take on the many.  In either case, what are you going to do to preserve the art before those precious little hands are not little anymore?  If none of these ideas strike you, simply taking a photo will be great.
Leave a comment if you tried one of these or have other ideas to share.