Expectations, they are never clear.
Setting expectations is so beneficial. I know it sounds scary to talk about when ordering a quilt, like going to the principal's office. But in fact, it sets the tone for how a business and clients do business and interact. In addition, how the relationship is handled reduces the disagreements and/or disappointments.
"If I had asked people what they wanted, they would have said faster horses."
~ Henry Ford
What are you getting at, Acela? I try to let you know what to expect of me, my process and service, how long it will take, my communication style, selections you will be making, what's next, etc.
I don't do as well as I would like. I get upset at myself when clients text or email asking, "how's it going?" To me, that means I'm not communicating enough about the status of the quilt or how long before I contact them again. Getting better at setting expectations is on my list of to-dos.
As I was thinking about improvements, I realized that I do not have the conversation about two other facets of expectations. I'm sure there is more, but I thought about these; what the client expects of me and what I expect of the client. So I will talk about both.
CLIENT EXPECTATIONS OF ME
I welcome any client or potential client to share their expectations and the experience and product in their minds. I know this is difficult, and so often, we ASSUME that we are both thinking the same thing. For example, "What does a t-shirt quilt" look like? However, if you had five different people answering that question, it would look different for every person.
I have placed thoughts into general groups. But, obviously, in the end, a client decides what they expect of me and how to communicate.
Personality traits: I can better deliver to expectations if I know a bit about the client. Are you a very detailed person? Is color crucial in the quilt? Are you open to ideas and would like me to take a creative license on the quilt with basic guidelines from you? Let me know.
Prior experiences: Do you come from a family of quilters and have a particular picture of what a quilt is, what it feels like? Let me know. Have you had a horrible experience before? Let me know what you DON'T WANT. Of course, t-shirt quilts are a little different from your traditional quilts, but I want to do my best to meet your expectations within reason.
Significance of quilt: Is there a specific situation that prompted the desire for a t-shirt quilt, above and beyond a typical life milestone. Or it could be a typical milestone, but the conditions are unusual. And honestly, I am blown away regularly when I hear family stories and how meaningful a quilt will be. I don't pry but knowing may give me ideas for your quilt.
Hot buttons: Any concerns or things that you are particular about, please let me know. If you are a recovering perfectionist, let me know. In that case, I would most likely show you more of the process to make sure you are good with what I'm doing. And put other decisions in your court where I would generally decide myself.
Are you concerned about the quilting over the graphics? Ask, I will show you a sample of what it looks like.
MY EXPECTATIONS OF CLIENTS
"What I expect of a client" is probably too strong of a phrase. Again I have grouped my "desires" below. Of course, the basics go without saying; t-shirts and payment.
Shirts are washed: This is truly the only one that is an expectation. The shirts should be washed recently. I say recently because I have had situations where shirts were washed and stored in a Rubbermaid container years ago. Then, they are brought to me with the client thinking, "check, they are washed."
Aside from the hygiene aspect, washing gives us information about the shirts that will help decision-making. The two pieces of information I am looking for due to washing are color bleeding and the condition of graphics.
First, you will see if the shirt still bleeds. If a shirt bleeds, the quilt will get stained throughout. The other reason that I have learned over time is with older, stored shirts, the graphics can deteriorate. That allows you to decide whether you still want the shirt in the quilt.
In most cases, it's a name or number on kids' team shirts, so the shirt is still significant. But occasionally, the client will not want it in the quilt. I wash the quilt just before delivering it to the client, but it's too late at that point to remove shirts.
Priority shirts: Are there or is there a shirt that needs to take center stage? I would like to know about them before I start setting up the layout of the quilt top. I will take up less of your time reworking the layout and contacting you for approval if I start with your needs in mind.
Timely responses and decisions: This is a "wouldn't it be super-duper." desire. The quicker the decision, the faster the quilt will be completed. What I mean by "quicker" is not a record 30 second response time. There's no prize for being the quickest.
I would be excited to see responses within the hour. However, I realize that situations may not allow you to immediately respond to my communication. In that case, it is what it is. Do your best.
Depending on the timeliness of responses, I may move on to another quilt. I come back to yours when I'm at a stopping point on that one. Although I do a lot of that as an ordinary course of business, it will take longer to complete.
Honesty: If you don't like what I am proposing, let me know. It is your quilt. I make suggestions based on my experience. Of course, my recommendations are skewed by my personal taste and the general opinions of my past clients.
I have had clients purchase and send the materials they wanted to use because they were so concerned about its selection. I have had clients indicate specifically what fabric they wanted, and I just purchased it.
As part of the process, I give you multiple suggestions for the backing, the borders, etc. If you don't like any of them, let me know, I will keep looking. If you would like shirts moved during the layout stage, I will do my best. Sometimes dimensions dictate the placement of shirts. If I'm not communicating often enough, call me on it.
QUILTING LINGO
Something experience has taught me is it is more difficult for clients to communicate when they are not familiar with quilting terms. There are specific terms to each industry. Quilting is no different. If you have experience with quilting or come from a quilting family, we can communicate more directly.
I try to describe elements of the quilt in layman's terms. But it's still tough sometimes. What is binding, sashing, etc.? The second layer of defense I set up for this is on my website. You can look under the Resources tab and click on Quilt Information and FAQ. It has all sorts of good information for you. There is terminology, differences between t-shirt quilts and t-shirt blankets, the approximate quantity of shirts required for each size, etc.
I made a quilt for a neighbor once. Of course, communication with friends is more casual. Maybe this one shouldn't have been. The quilt was a gift. We talked about the basics, and he was ok with me making decisions on the quilt. I knew who it was for and why. So off I went.
When the quilt was finished, I presented it to him. And to my surprise, his response was, "I don't know how to tell you this, but she hates green, especially hunter green." Yes, indeed, I used hunter green. My fault for not asking. Everyone has preferences on color. I made a new quilt. This one was simpler since I was running out of time. This taught me a huge lesson.
And I'll tell you about a superb experience with timely responses. Not long ago, I had a client that had unique requests for her quilt. We had several conversations upfront. Because it was not one of the standard quilt designs I make, I had many questions for her and made sure I checked in with her frequently. I have to say that the longest it took her to respond was about an hour.
Most of her responses were within 20 minutes. That was awesome because frequently, I didn't need to stop what I was doing. I would just move forward as if she had been right there to have the conversation with.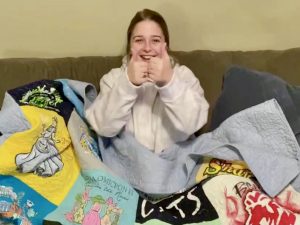 I hope all this has been helpful and we can work more seamlessly together. Looking forward to serving you.
Snuggle Up.