Quilts make your house look warm and cozy. Their softness and textures add a more welcoming feel to the home. You can quickly transform the look of your home by displaying quilts.  Fill your home with striking displays of quilts.
Since quilts can be made to your liking, you can choose the colors and patterns that properly represent you and the size and shape of the open spaces on your walls. You can make your quilts artistic, traditional, simple, or complex. They can be a modern negative space quilt or a combination of colors, calm or exciting, all depending on your mood and your personality.
You can use just one as a conversation piece or combine them to make a bold statement. You can place some as pure decoration and others on display but put them in use. Quilts can be used in many different ways throughout your house to beautify and add unique and exciting charm to the place you call home.
CONSIDERATIONS
As you determine the placement of your quilts, always consider the environmental impact on your quilts.
Don't place in direct sunlight. Your quilt will fade, and the sun will damage the fibers over time.
Occasionally take them down and shake 'em up, trade them out, refold them. Folding in different places reduces the risk of creating permanent creases.
Don't hang quilts in a manner that will cause a lot of stress on the fibers and seams. Large quilts that are hung need more support than smaller ones. Don't use pins or nails in the quilt.
HANGING
Many systems can be used for hanging a quilt. They can have a concealed hanging system or be decorative and exposed. Take a look at some of these options.
Concealed
Concealed Rod –
For the concealed look, the most commonly used hanging system for displaying quilts are corner pockets in the back and a wood or metal rod.
Hangit Dangit –
There is also a great system, Hangit Dangit, that makes the concealed method very simple.
Exposed
Exposed hanging systems are many.
CURTAIN ROD –
If the quilt has a sleeve on the back, a curtain rod is the most straightforward way to hang it. Place your curtain rod hangers on the wall you would like for the quilt. Then, run the rod through the back in the sleeve and place the rod on the rod hangers. You now have a beautifully displayed quilt.
Curtain Rod and Tabs – 
If your quilt has tabs, the installations are similar to the sleeve if explicitly created to be hung. Place the rod hangers on the wall, run the rod through the tabs and hang.
Curtain Rod and Clips –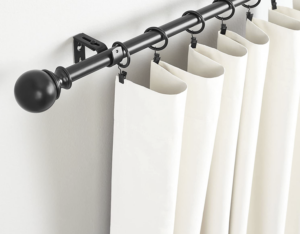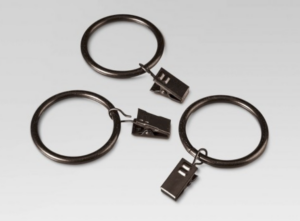 With this option, no alteration of the quilt is necessary. Place the clips on the top of the quilt approximately 5″ apart. Make sure the clips have a good bite on the quilt binding. Next, run the clip loops through the rod and place the rod on the rod hangers.  
Tapestry hanging clips –
Place the hanging clips on the quilt at 5-6″ intervals.
Get a good bite into the quilt but be careful they don't dig in and tear the fabric.
Nail the tapestry clips into the wall.
Binder Clips – 
This is a quick and dirty way to hang the quilt. If your binder clips are decorative, the hanging system will look great if you use the typical bulldog clips, it will look elementary. How much time do you invest into looking for decorative clips? It depends on the look you would like for your display. Maybe bulldog clips would work fine.
Wood Hangers –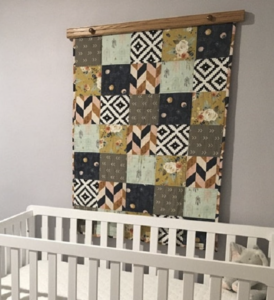 There are a plethora of wood hangers in many styles. You can search through the following options. This system has either one long wood clamp on the top of the quilt or several smaller wood clamps and attaches to the wall.
HANGING GATHERED
Wall Hooks –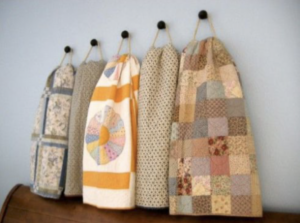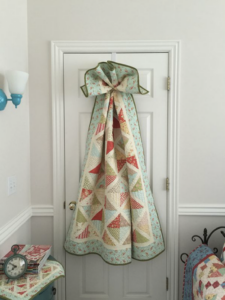 When using wall hooks, you creatively hook/hang the gathered top of the quilt on the hook. In most cases, the hook is not visible, so it does not need to be decorative. A set of three or five hooks separated by 8-10″ make for a beautiful display of multiple quilts. You may also place a single quilt behind a door that is frequently in the closed position.
FOLDED
Wall Shelf with Quilt Hanger –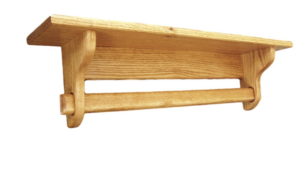 Finding the right wall shelf is the focus here. Try one of these.  you have placed the wall shelf on the wall, simply fold the quilt and place it over the rod,
Wall Quilt Stand – 
Look for the appropriate style of stand. You need the room on the floor for this one. Most stands can hold several quilts.
Wall Quilt Rack – 
Select your rack, place it on the wall, and set up your quilts. Make sure it is not in direct sunlight at any time during the day.
Quilt Hangers –
Railing – I think this is so adorable. If you have a two-story house with a railing that would accommodate a folded quilt, go ahead and see if it helps bring the staircase in as part of the decoration in your home. It will definitely make the staircase a focal point.
Headboards –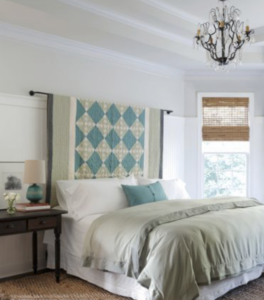 Using a quilt for a headboard allows you to frequently change out the look of your bedroom. A headboard can be created by placing a curtain rod over the bed. A wall shelf with a rod over the bed will also work.
MISC
Table topper –
The quilt can be used to decorate a table that is infrequently used and removed when eating. The quilt does not need to be sized to completely cover the whole table. Long overhangs look fine.
Curtain –
If you have an old quilt that you don't mind getting faded, you can consider turning a quilt into a curtain to dress up your windows. This unusual way to use a quilt is sure to be a conversation starter, as it beautifies your home, provides privacy and prevents drafts. You may want to place a sacrificial curtain behind it to diminish the amount of light it gets. Definitely keep an eye out for fading, though.
IN-USE DISPLAYS
Floor Baskets –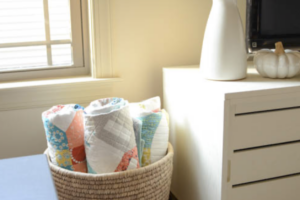 For a minimalistic look, you can use an open basket. Find a wire basket and roll your quilts up in it. Make it part of a decorative corner in the room. You can find a cute decorative container that themes with the room. It could be a baby carriage, an aluminum tub, a wooden crate, etc.
Quilt Ladders –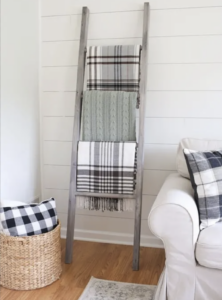 Quilt Ladders can be beautiful displays of quilts. Ladders are commonly seen in the living room or bedroom. They can be specialty ladders for quilts. Try looking at some of these. I've also seen antique wood A-frame ladders, real ladders, used both set up on the floor and attached to the wall. Ladders can be found in a large spectrum of styles, from modern to farmhouse.
Chair –
If you only have one or two quilts, they can set them on an antique chair folded nicely, and they become part of the decoration. Or unfolded and laid across the back of the chair.
Bedspreads –
The most obvious use of a quilt is as a bedspread.  Using a quilt as a bedspread gives your bedroom or guestroom a charm of its own.  If the quilt is not large enough to use as a bedspread, place it at the foot of the bed folded across the bed.  Displaying the quilt this way not only makes your bed charming but it is also of great use on those chilly nights when you need just a little extra cover.
CABINETS
See my post for display cabinets and display tables.
Get creative. I'm sure there are many other ways to display them. However, if you are placing them on display rather than storing them, keep them out of the sun and humidity, as well as refolding them every few months.
Quilts can be such a striking addition to the home. And there are so many that have stories to tell or memories to trigger.
Share other ways you are displaying your quilts.