Have you heard the term "vintage cutter quilts" or "cutter quilts" but don't know what it is? I was ecstatic when I learned of it. Actually, what I was thrilled about was the concept. Brilliant! And I also found out how behind the times I was since the idea became popular in the 1980s.
We often talk about taking care of our quilts. And we do take care of them.  However, the reality is, no matter how well you take care of your quilt, there will be a time when the beloved quilt has worn itself to pieces. And in an odd kind of way, that is good.  I believe it means that the quilt was not only useful but helped the family make many memories.  It may be several generations later, or it may be 10 years later. It may have already been in significant disrepair when it was willed to you. So what do you do when the quilt is past the point of repair?
If the quilt deserves to be in a museum, by all means, connect a museum. Do you want to carefully store it as a keepsake representing family history with the intent to continue to pass it down just as that, history? Not all do. And not all of the rest should simply be thrown away.
What are vintage cutter quilts?
There is no universal term for quilts that no longer have a life as a bed covering or couch throw. The term vintage cutter quilts is becoming accepted as such.  These quilts are often defined by stains, tears, holes, and shredded fabrics which have disintegrated over time. Yet, pieces of these quilts could still be in good shape. And more importantly, regardless of the condition of the quilts themselves, they hold such intense sentiments from the past.
It is not the quilt per se that needs to be preserved. It is the memories it triggers as you look at it, feel it, smell it, cover yourself with it. When those memories come rushing back into your heart and head, it's like an explosion. The quilt cannot be thrown away.
I want to point out that there are crafters that enjoy using vintage cutter quilts for their projects.  These are not necessarily their quilts but purchased specifically to craft.  Etsy has many vendors that offer vintage cutter quilts.  The focus here is to preserve your own quilts that have been handed down through the family.  
Vintage cutter quilts may have limited use and monetary market value because of their condition, but they retain their sentimental value. Vintage cutter quilts remain sentimental objects while becoming a new use-value by being remade into cutter quilt items. Things such as pillows, ornaments, jackets, and teddy bears are some of the items made. Thus the term "cutter" is to be cut and made into new things.
History
A little bit of history. I found a fascinating thesis written by Rebecca H Mccormick, "The Cutter Quilt Fad, 1980 to Present: A Case Study in Value Making in American Quilts", George Mason University, 2013. I am not usually interested in history, but I thought this was fascinating, so I'm sharing.
"The "vintage cutter quilts" fad of the 1980s and 1990s was initially rejected by contemporary quilters and quilt collectors. It disregarded the culturally assigned weight placed on quilts as historical art objects tied to female production even in poor condition.
In April 1982, Ralph Lauren premiered a fall collection for which he was justifiably proud. The garments included sweaters knitted with sampler-style designs on the fronts. Most notable, however, were the skirts, vests, and jackets made from antique quilts of the 1890s. It was one of the first times old quilts were made into novelty objects, and couture came to widespread attention.
The backlash from contemporary quilters was immediate and sustained. Commentators called the Ralph Lauren collection the "wholesale destruction of the endangered species of antique quilts."
Yet the vintage cutter quilts fad of the 1980s lasted into the mid-1990s and even persists into the twenty-first century in items sold at flea markets, antique shops, and online. With the increased rhetoric of recycling or "upcycling," the stigma of using quilts for crafts has almost disappeared. "
You can view her whole thesis  if you are interested in reading more.
Preserving by making
Now the fun begins. You know I'm all about preserving the memories. Although I did not have a grandmother or mother who quilted, I have a few old quilts. It hurts my heart to think that they will someday be in a condition that I need to decide what to do with them because they aren't useful as quilts.
The options are really limitless, especially if you are only making for yourself. What you make can depend on the quilt's condition and expectation for who and how many folks are getting these items.
For example, I was told a story of a lady who cut a quilt into thirds and finished each piece as a table runner for the three adult siblings, children of the quilter. If you need to create pieces to include grandchildren, try pillows, Christmas stockings, or ornaments. Size the newly made item more appropriately based on the quantity you need.
Some items would be acceptable if sections of the stained and worn quilt are included. For example, ornaments of all types would be even more sentimentally valuable if those marks of time past were included. Sachets filled with lavender or a trio of 4″ x 6″ pieces in frames are adorable for youngsters. They will be so meaningful later in life.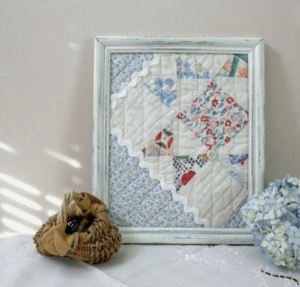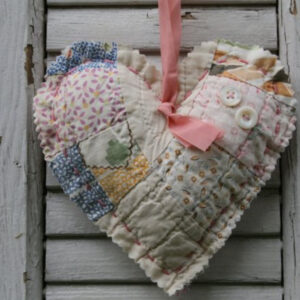 Making Christmas stockings with the worn areas would be such a walk down memory lane. This would be especially true if the quilter held Christmas as significantly more memorable in their heart.
When placing a section of the quilt behind an antique window frame with glass or a section in a picture frame, the worn or stained areas can absolutely be part of the memory and very important. Framing sections of the quilt will memorialize the loved one very well.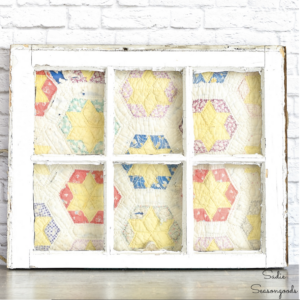 If more significant areas of the quilt are salvageable, consider reupholstering a chair or bench seat. If you have a chair that is not used very frequently or placed in the home for decor only, reupholstering it would be perfect.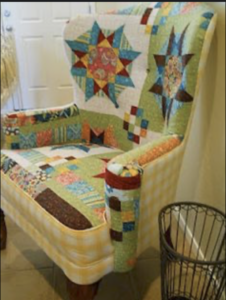 Another option would be to salvage sections of the vintage cutter quilts to reuse in a new quilt. How precious would that be? If the quilter had a favorite block pattern, can you work that into the new quilt design? Fussy cutting sections for use on a denim jacket would be fun.
Stuffed animals and pillows are popular items. Find a pattern for a teddy bear or doll, etc. How about a book cover? It has possibilities. Consider placing it on a journal or book that gets only slight handling.
In Closing
In closing, I was amazed at the thought of reusing the vintage cutter quilts that are past their life. The connection of the new items made with the already sentimental quilt material will be more intense and certainly a better option than doing away with them.
Vintage cutter quilts work is a very similar strategy to t-shirts created into quilts. Hey, what if t-shirts were made into quilts, then (you know where I'm going, don't you) when they are limping along on their last leg, they get turned into other items that can live on, and maybe for much longer. Is that a fantasy? Regardless. The thought of being able to rescue worn quilts is captivating.
Snuggle Up, enjoy your quilts today and for many tomorrows. I leave you with this excerpt.
An idea came to me while I was mending my grandmother's quilt with, appropriately enough, a scrap of the shirt that had belonged to my now-grown son when he was in kindergarten. I hope to restore the quilt to good condition, despite hard use, so I can pass it down to some future daughter-in-law. Just that thought set me to thinking about the Marxism that was the catechism in my socialist household while I was growing up.
I thought about the value my grandmother's quilt has for me – almost illimitable – the value it has on the market, as it is in poor repair and was never anything fancy – almost nil – and I wondered where in the Marxist scheme of things I would find an expression for a theory of value that would cover grandma's quilt – quilt-value, I have come to call it……
The quilt itself is cotton, made of scraps and bits of dresses my grandmother wore every day to work on the farm, and blouses my favorite young aunt wore to high school. In my mind's eye, I can see both women when I look at the quilt. Unfinished by my grandmother at the time of her death, backed in no-nonsense washable cotton and polyester by my mother, the quilt links me through the female line to my own childhood and too precious times of my grandmother standing close beside me or showing me how to do some chore or other……..
Yet, I must face the fact that my most prized possession would not fetch twenty dollars on the open market. To anyone outside the family, its only use-value is as a covering or perhaps a quaint curiosity. 
~ Nora Ruth Roberts
Please share any vintage cutter quilts experiences with creating new sentimental pieces out of worn quilts or anything else you would like to share.
Acela