The worst thing you could do to a quilt is wash it
Don't you love that fresh, newly washed feel and smell. Wrapping yourself with the fresh quilt and wanting to take a nap. And knowing your quilt is clean and looks great is also a wonderful feeling. Now, keeping the quilt that way, that's the challenge. It doesn't mean you shouldn't use it. You know my opinion, use it and love it to death. Just make sure it has a long life.
It's all about the fibers that make up the quilt. Textile fabric fibers are much more fragile when wet. So the washing process is challenging for it. All washing processes involve agitation, which is stressful on the fibers. Then there is the risk of bleeding of fabrics, primarily if hand-dyed fabrics or batiks were used. If care is taken as you consider cleaning your quilt, your quilt can be kept in good condition for longer. It's not about avoiding deterioration and damage. It's about minimizing it.
The conversation here is about quilts used daily, not vintage heirloom quilts. There's a good article in the National Quilters Circle website HERE that talks about cleaning quilts you should be super gentle with. Recommendations such as vacuuming the quilt, spot cleaning, and hand washing are discussed. Potentially a quilt could never be washed if taken care of appropriately. That's a quilt that is also never used. What's the fun in that?
But those aren't the quilts we're talking about here. We're talking about the quilts you use every day and love to death. We are trying to extend the lives of those quilts by using them with love and caring for them with love.
I remember making a replacement quilt for a friend. It was replacing a baby quilt I gifted her at her baby shower. Her son loved the quilt and literally loved it to rags. Obviously, it was washed often. At the age of 7, her son almost had a pile of rags instead of a quilt. The colors were worn and faded, there were holes from wearing all over, and I'm sure tears here and there. There was no repairing the original quilt. I made him a new quilt to replace it. I tried to get the same fabrics, but of course, many years later, they were not available. He loved the new one as well.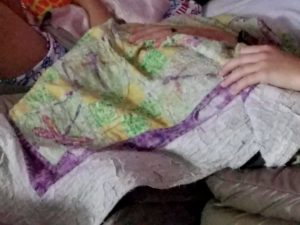 Washing the quilt should be an infrequent activity even in daily used quilts, of course, unless you have small children or allow your pets to use them. If you use the quilt as a bedspread, it is likely to need less washing as well. When I say "infrequent," let's define that as twice a year or even once a year. With that in mind, extending the duration between washes takes a little forethought.
Let's first talk about daily care.
Spills
If you have spills or accidents on the quilt, don't immediately throw the quilt in the washer. There are many ways to spot clean. I've discussed a few HERE in a previous post. If you have children, you may even do spot patrol every week to stay on top of it.
Repairs
If you see small tears or seams coming apart, repair them immediately before they become real problems. Inspect the whole quilt. There may be more. Do a review routinely. Even if the quilt is only gently used, it may start to show weakened areas here and there as it ages. It's best to repair immediately. It's much easier to fix a small area than a larger one. You may even be able to make it inconspicuous.
Refresh
If the quilt isn't smelling fresh anymore, you can air the quilt out. Take the quilt outdoors on an overcast, dry, and breezy day to refresh it. Place it outdoors on a drying rack. If it is a large quilt, do not hang it in its entire length. The weight will pull at the threads and tear seams and potentially fabric fibers.
I'm going to tiptoe in and say, you can use linen sprays. Be advised, I believe all linen sprays have essential oils. And essential oils have been known to stain. Is it enough to affect your quilt? Your call. I use it. It makes my quilts smell heavenly. Makes me want to melt into it and … nap.
Wash and Dry
So you say it is time to wash your quilt. If you are thinking dry cleaning might be a better solution, it is not advisable to dry clean quilts. The dry cleaning process agitates the quilts and uses solvents, which can both damage the fibers. There is also a potential for bleeding.
Washing by hand and airing out to dry is the best you can do for your quilt. I also know it's tough in today's world to keep up with everything, so we will talk about machine washing and drying here. I will add, if on occasion, you have the opportunity to wash and dry the quilt by hand, it will be a plus for its condition. It doesn't have to be all or none.
Before washing, test for colorfastness if it is the first time you are washing the quilt. Test the fabrics you are concerned with by lightly rubbing them with a piece of a white cotton fabric moistened with hot water. If the color transfers to the white cloth, don't wash the quilt before taking extra precautions. Take a look at a post on bleeding HERE.
If you are good to go with the colorfastness of your quilt, let's talk about how to minimize the impacts on your quilt during the washing process.
Wash using a gentle, cold water cycle and mild detergent. Many quilters recommend Dawn dishwashing liquid. As you decide what detergent to use, look for detergents with no perfume, no dyes, no phosphorous, no bleach. Several detergents are made with quilts in mind; Orvus Quilt Soap, Quilt Soap by Quilters Rule, Retro Wash. Now, this is super cautious, but I add color catchers even if I know the quilt has been washed successfully without bleeding before. As fabric ages, it may begin to be susceptible to bleeding.
Now to dry the quilt. Support the weight of the wet quilt with both arms as you take it out of the washer. Yes, like a baby. Quilts are heavy when wet, and threads may pop. Ideally, it is best to lay a quilt flat on a rack to dry.
Understanding the pressures of everyday life, we would all like to dry the quilt in a dryer. I do. Here's what to consider. Partially dry a quilt in a dryer using medium heat.
Use wool dryer balls instead of fabric softeners or dryer sheets. Place 3 – 4 dryer balls in the dryer with the quilt. The wool dryer balls work themselves in and around the quilt so air can flow through the quilt and dry faster. That means less time in the hot dryer. If your quilts are coming out with static cling, add another wool ball to the dryer. Take your quilt out of the dryer when still a little moist. You can place it outdoors on a drying rack or lay it across a couch or bed to finish drying.
You're done, back to napping with your wonderful quilt.
You hear this from me often, but use as much or as little of these recommendations as you like. It's your quilt. If you only change one thing, it's an improvement. If you only change the wash cycle and do the rest the way you do all your other wash, it's still an improvement. You could only add the wool dryer balls, and that would be an improvement. As a matter of fact, if you use the dryer balls for all your wash, it will help all your clothes. Bonus. Or do all of it. It's not that time-consuming and very worth it in the long run.
Never iron your quilt.
Washing and drying are tough on your quilt's fibers. I read a very apropos statement that stuck with me, "Washing a dirty quilt will extend its life but washing a clean quilt will shorten its life." Be selective when deciding if it's time to wash your quilt.