How far would you go to make a quilt, right?
The thing about quilts is that once they are quilted, I believe, you do more disservice in taking it apart to redo something than the good you do fixing the issue. Before quilting, that's another story. There's also another alternative. Start again. Of course, if you are talking about t-shirt quilts, that is usually not an option.  
CALLING IT QUITS ON THE QUILT
I have called it quits on a quilt before and started over again. It was the colors I had chosen that were not working. I often challenge myself to get out of my box of comfort. On this occasion, I was working on color variations. I am not a fan of browns and muted greens for the most part. So…. my challenge was simply to create a quilt that had darker colors, of course, including brown and army green-ish.  
I selected my fabrics, pattern and went at it. I placed the pieces in random order per the design. For me, randomness is very organized. I laid out all the pieces and did not like it at all. I replaced a few of the fabrics and pushed forward.
Once the top was done, I REALLY didn't like it. I decided that I was not going to spend the time to quilt it. The fabrics did not work together. It wasn't that I just didn't like it. They didn't work. I folded the top up and set it aside, not ready to throw it away. In the back of my mind, I was thinking maybe there's a way to make this work. That thought sat there for a while.
SECOND TRY
I had the opportunity to create several other quilts in the brown family for my camping trailer. The interior was primarily brown. I was up for the challenge. The first one I
made was a throw for my husband. It is one of the quilts I love most out of all that I have made. I made a throw for myself. It is more on the beige side, but also my favorite. And lastly, I made a bedspread for the bed in beiges and browns, which I also love. Success.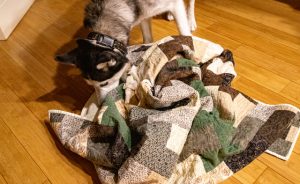 I think I wasn't in the right frame of mind for the first one. I was forcing myself to make a quilt in colors I didn't like and wasn't ready to do it. Now I know I can and can do it well. And the story of the poorly selected fabrics didn't turn out that bad either. I eventually finished it and gifted it to my daughter's dog. She loved it.
REMAKING A QUILT
My husband and I had a friend who was having a baby. So my husband picked out a pattern that had lots of organic shapes; cartoon-style animals. I knew it would be a lot of work, but it was adorable.  
Fast forward to finishing the top, and I realized because of the way I attached the appliqués, it was going to start fraying as soon as it was washed. And as you would expect, with a baby, it would get washed a lot. So I sat on it for a week or two and ultimately decided to remake the quilt with a different stitch type on the appliqués. I was satisfied with the results and glad I remade it. It was weeks of work but well worth it.  
REVISING THE QUILT DESIGN
Sometimes making it right means revising the design and making what you have work. For example, I was making yet another baby quilt. I was rushing to make a date to gift it. Unfortunately, I accidentally cut some of the backing sections to the wrong size.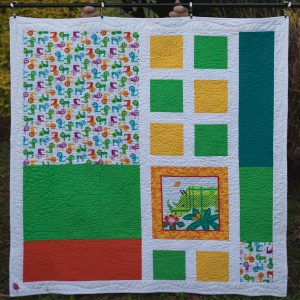 They were sown into the backing. I was in the process of putting the three layers together so I could quilt it when I realized, not only did the front and back not line up, but the back was short. Not having enough fabric to remake the backing, I added a border to the whole back in a complementary color. It looked good. I was very relieved. I quilted it, finished the binding, and the parents-to-be loved it.  
RIPPING OUT STITCHES
I'm telling you stories of how I deviated and made the quilt work. I have been known in the past to spend hours of ripping out stitches, mostly the quilting. If I had a wiggle that didn't belong, I took the stitches out and fixed it. If I made an abrupt stop, which results in stitches that look more like a person's heartbeat than a stitch, I redid it.  
NOT ANY MORE
Now I make a judgment call. If it doesn't stand out, I leave it. After all, it is handmade. Handmade is not homemade, and it is not factory-made. I have become better at judging what to leave in and what to correct.  
I also love the look of hand-guided long-arm quilting in place of computerized quilting which looks perfect. Yes, it is beautiful and perfect. But, I guess I value the talent and time put into doing it manually.
I'd like to hear your thoughts on reworking mistakes.